The exciting finale of the NWHL is set to take place this weekend on Mar. 26 and 27. Although the NWHL had some COVID-19-shaped bumps in the road this season, the Isobel Cup is a can't-miss for hockey fans everywhere.
The semi-final games will showcase the first-seeded Toronto Six hit the ice against the fourth-seeded Boston Pride, while the second-seeded Minnesota Whitecaps will face off against the third-seeded Connecticut Whale.
Below are the two most dangerous players on each team heading into the semi-finals.
Toronto Six
MIKYLA GRANT-MENTIS
This season, Mikyla Grant-Mentis has consistently proven herself to be one of the strongest offensive players in the NWHL. She is the top-seeded team's top goal scorer with a spectacular five goals in only six games, and is currently tied for the league lead with an average of 1.5 points per game. Grant-Mentis is an offensive force to be reckoned with, which is demonstrated by her impressive 28 shots on goal this season. If she shows up using the success of her season as fuel, there is no doubt she will be one of the most offensively dangerous players on the ice in these playoffs.
LINDSAY EASTWOOD
In her first season playing in the NWHL, Lindsay Eastwood had quite the season. A powerful defenceman, Eastwood scored one goal this season, which notably happened to be the very first goal scored in Toronto Six history. She currently sits at third in the league with five assists in six games, which is no surprise considering her history of posting around a point-per-game when she played for Syracuse University. Eastwood is reliable in her own zone, and has the ability to remain calm under pressure. Her dependability on the defensive side combined with her ability to create electrifying scoring chances will make the Toronto Six tough to beat.
Boston Pride
KALEIGH FRATKIN
Tied for the most points in the league this season, Kaleigh Fratkin is definitely a player to watch in the semi-finals. All nine of Fratkin's points have been assists, which tallies up to nine assists in seven games. If that doesn't prove her skill, she also posted a plus-minus of +14 this season. For such a small amount of games, this statistic demonstrates Fratkin's impact on the ice. As a veteran player in the NWHL, Fratkin has been an exemplary leader for her team in an unorthodox season. With her playmaking abilities and her dependability on defence, Fratkin could play a main role in a potential upset against the Toronto Six.
LOVISA SELANDER
Lovisa Selander's stellar goaltending has greatly contributed to Boston Pride's successes this season. Selander has faced one of the highest number of shots of any goalie this year, with 133 shots against. Of those 133 shots, Selander let in a mere seven goals, giving her the second-highest save percentage of the league at 0.947 per cent. In her last season with the Boston Pride, Selander posted a save percentage of 0.941 per cent, so her stability in net does not come as much of a surprise. With the support of her fellow teammates, Selander's show-stopping saves will definitely help bring the Boston Pride one step closer to the Isobel Cup.
Minnesota Whitecaps
NINA RODGERS
Nina Rodgers was a notable player in the Minnesota Whitecaps' short but sweet season. Though she only played four games, Rodgers accumulated six points with two goals and four assists. She currently leads her team in points and is tied with Grant-Mentis for the league lead in points per game, with an average of 1.5. Although her previous seasons playing for the Minnesota Whitecaps weren't as successful, it seems as though Rodgers has hit her stride this season. Her passing was unmatched in every game and she posted a plus-minus of +8, which is extremely impressive given the amount of games played. It will be exciting to see what Rodgers can do in the semi-finals, and hopefully her textbook passing will assist her teammates in moving on to the finals.
AMANDA LEVEILLE
As the starting goalie for the Minnesota Whitecaps, Leveille played a big part in her team finishing second overall. Leveille faced a monstrous 157 shots against this season, letting in only 10 goals in four games. Her save percentage for the season was 0.936 per cent, but if the 2019/20 playoffs are any indication, Leveille is just getting started. In last season's playoffs, Leveille posted a perfect save percentage and shut out the Metropolitan Riveters to take her team to the finals. Unfortunately, the finals for the 2019/20 Isobel Cup were cancelled, but hopefully this season Leveille will get a second chance to show how well she can perform under pressure.
Connecticut Whale
ALYSSA WOHLFEILER
A strong forward for the Connecticut Whale, Alyssa Wohlfeiler has proven to be extremely valuable to her team this season. Although she was also faced with a short season of four games, Wohlfeiler accumulated five points, with one goal and four assists. Another tape-to-tape passer on this list, Wohlfeiler created significant scoring chances all season for her teammates. She is a respected leader as an original member of the NWHL, no doubt looking for a win to top off her season. Wohlfeiler posted an average of 1.3 points per game, and if she keeps that up, will be a driving force in taking the Connecticut Whale to the finals.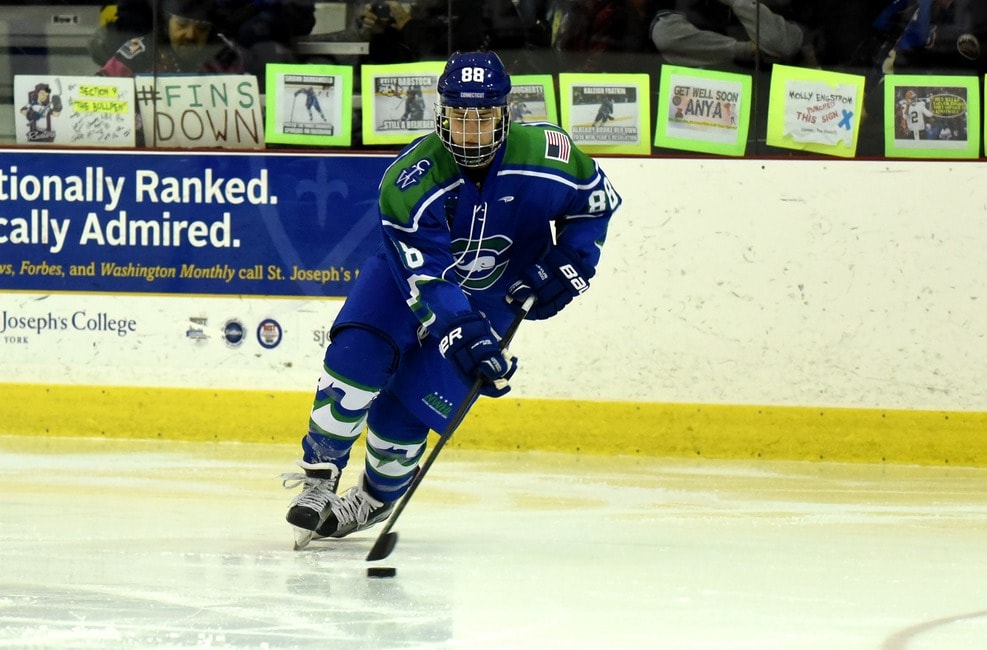 KATELYNN RUSS
Although Katelynn Russ was unable to demonstrate the entirety of her skill due to the shortened season, she still scored two goals and two points in four games. What is more impressive is the amount of times Russ attempted to score this season. She took 22 shots on goal this season, which demonstrates her sheer offensive strength and determination. This hard work is something that pays off, and it did pay off for Russ in the 2019/20 playoffs when she scored two goals and one assist, with an average of 1.5 points per game. Although Connecticut did not win in the semi-finals, Russ was a huge offensive asset to her team. Hopefully this season, Russ' efforts will have a bigger payoff in the Connecticut Whale's efforts to win the Isobel Cup.
The NWHL Isobel Cup semi-finals will premiere live with Toronto Six taking on Boston Pride at 5 p.m. ET on Mar. 26th with an all-female broadcasting team on NBC Sports Network. The games can also be streamed on Twitch, NBCSports.com and the NBC Sports App.