Canada faces an Olympic selection headache in the coming weeks – with a plethora of brilliant midfielders at their disposal, who is destined to be the odd one out? Who will be the central midfielder to start from the bench, and who will be the midfielder left off of the final roster selected for the tournament?
It's important to note that for the 2021 Olympics, Canada can only submit an 18-player roster instead of the 23-player roster traditionally seen at FIFA tournaments. Players selected to the squad will likely merit their spot on the basis of how adept they are at performing in different roles, something seen already in 2021 under Bev Priestman with Ashley Lawrence and Sarah Stratigakis deployed in multiple positions.
Historically, Canada has opted to bring five or six midfielders to the Olympic Games. Even Pellerud brought six to Beijing 2008, Herdman six to London 2012 though just five to Rio 2016 (with Ashley Lawrence considered a defender). Diana Matheson and Sophie Schmidt have been the two names omnipresent since 2008, with Desiree Scott joining them for both 2012 and 2016. Should Head Coach Bev Priestman follow tradition, then it appears likely that she too will take five midfielders in addition to the aforementioned Lawrence as a utility option.
Under Priestman, Jesse Fleming has all but locked up the attacking midfielder role – she's played it to perfection, supporting each of the rotating cast of strikers ahead of her. But who sits behind her in the defensive midfielder role? Desiree Scott, Quinn, Sophie Schmidt, Jordyn Listro, Sarah Stratigakis and even Ashley Lawrence have all played in one of the two spots for Priestman in her first matches in charge. There's one name missing though – the legendary Diana Matheson.
It's absolutely fair to call Matheson legendary at this point in her career – she's done it all for her country and with class at that. A true battler, she's an omni-potent threat that despite her diminutive frame will run you over should she not be able to dribble in behind you. Her passing and creativity are what set her apart from many of her contemporaries; her vision remains unparalleled.
She's written herself into the annals of Canadian soccer history with her goal to clinch Canada the bronze medal at the 2012 Olympics. Yet at 37 years old and recovering from a spell on the side lines with a new coach in charge, will this be one obstacle too great to surmount?
Both Stratigakis and Listro performed decently when called upon, but will it have been enough to impress Priestman for her final selection? One would hedge a bet on Stratigakis over Listro as her cameo appearance against Argentina resulted in her slotting away a late winner; she's proven herself as a difference maker when called upon and really that's all one can ask for from a substitute. Her youthful bursts of pace and dynamic, direct style of play are something that just not many other Canadian midfielders possess and could work in her favour.
The central midfield pairing that Canada opted for in its most important matches at the SheBelieves Cup was that of Quinn on the left and Desiree Scott on the right. The pair were wonderful in their defensive contributions against the United States. Quinn's versatility to play as a defender will prove to be invaluable to Priestman, just as Ashley Lawrence who, as dynamic as the player that she is, contributes just as well in the middle of the park as at fullback (though it did leave her usual fullback position exposed).
These three would appear to be the favoured trio heading into the Olympics on paper, though that's not counting out Sophie Schmidt whose experience, creativity and leadership always puts her in contention. Though, one would suspect that Schmidt would succeed in a relief role should Fleming tire in the attacking midfielder position. Throw in the aforementioned Matheson with Scott, Quinn, Fleming and Schmidt and those should be the favourites to be called into the squad if Priestman opts to select just the five midfielders.
Thus, herein lies the headache. With Fleming and Lawrence virtual locks, this leaves Scott, Quinn, Schmidt and Matheson each vying for a starting role. Let's be clear – neither of these potential pairings would be a negative choice. The likeliest outcome would be that each match will be approached on a match-by-match basis. Canada will face Japan, a unified Great Britain and Chile at the Tokyo Olympics.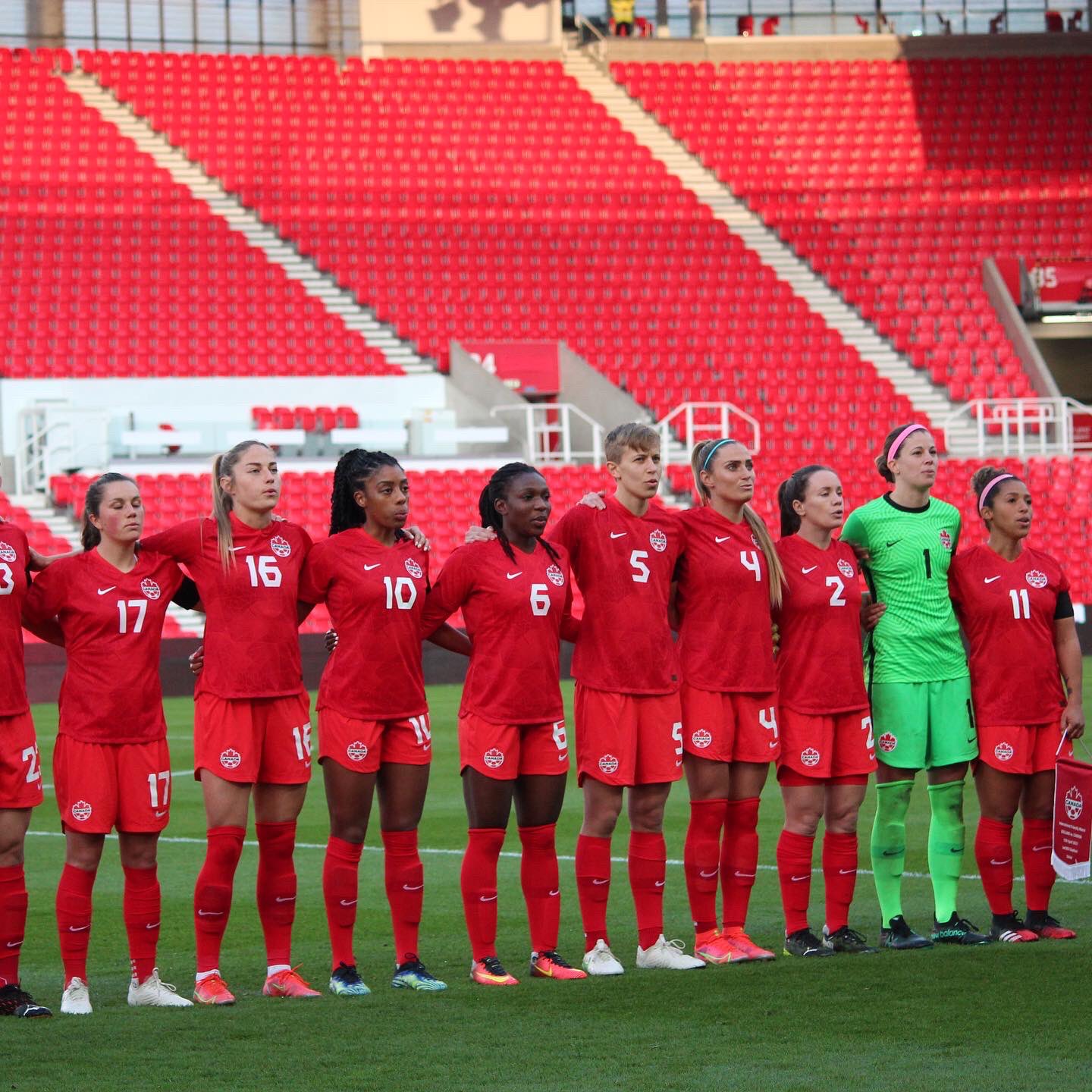 Canada recently played England in a friendly match with Quinn and Scott deployed behind Fleming, coming away with a 2-0 victory. This Great Britain side will likely feature a majority of that very same lineup that Canada came up against on this Apr. 13 friendly, with a slight sprinkling of Scottish and Welsh players to be expected.
The beauty of the pairing of Quinn and Scott is that either of these players can drop back into the defensive line as necessary, at times resembling a flat back six in that match and against the United States. They've got chemistry that can prove invaluable in shortened tournaments such as this one where matches are often decided in fleeting moments. If it's not broken, there's no need to fix it one could imagine Priestman contemplating as she assesses the duo's outstanding performances. Why separate them?
One of Matheson and Schmidt or even Stratigakis should she be selected could therefore rotate into the squad in the Chile or Japan matches. That's if Stratigakis or Matheson even make the final roster, as difficult to imagine as that would be considering their contributions to the red and white.
Should Stratigakis not be selected, her inexperience will likely be cited. For Matheson, it will be a race to match fitness and perhaps essentially being an unknown quantity in Priestman's system of play. Each bring something unique to the squad and their attributes would be sorely missed quite frankly.
So often this sport is approached with a matter of what a player has done lately for a manager rather than in the perspective of their career in its holistic entirety, with shiny new toys preferred over old ones. But it could be put down to this – can Diana Matheson put her recent injury woes behind her? Can she hold herself together for the duration of the tournament as she's done time and time again like the elite professional that she is? Only time will tell if this is to be her swan song.